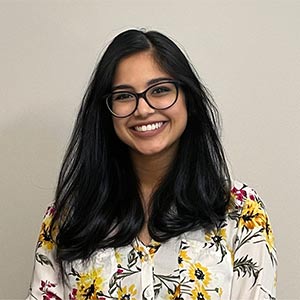 Like many within this field, my own experiences with mental health influenced my decision to become a therapist. Through my own struggles in my young life, I found a passion for hearing other people's experiences and empowering others to identify and utilize their strengths in moments of hardship. I am an LGBTQIA+ affirming therapist and I have a particular skill in working with people of color, first and second-generation immigrants, high-achieving individuals, and folks new to therapy. Additionally, I deeply understand, honor, and respect the South Asian and Middle Eastern religions and cultures. I endeavor to bring warmth, awareness, and non-judgment to my sessions. I co-create a unique healing experience with clients, often using humor and creativity to encourage mindfulness, self-compassion, and change. I believe that healing is non-linear, and absolutely that it is possible!
A couple of areas I specialize in navigating are:
Anxiety and depression
Ideas of perfectionism
Developing self-compassion and increasing self esteem
Exploring one's cultural identity
Coping with and understanding feeling "not good enough"
Overcoming the stress of living up to expectations (cultural, intrapersonal, societal, parental)
Setting boundaries
Overcoming generational and childhood trauma
Feeling torn between two or more cultures
Feelings of shame, worry, or guilt
Developing healthy coping skills
My Approach
I tend to work from a strength-based and person-centered approach, and I work from a blend of humanistic, relational, multicultural, feminist, and psychodynamic lenses, which means I work to help clients gain a clearer insight into their lives, identities, and relationships while holding that each person is a unique, valuable being. We'll look at patterns that have shown up again and again in your life by gaining a deeper understanding of your emotions, thoughts, family dynamics, early-life experiences, and beliefs. Once we can see these patterns clearly is when we can begin to approach the change you'd like to see. We'll also focus on your relationships, values, culture, and autonomy. I borrow techniques from Cognitive Behavioral Therapy (CBT), Dialectical Behavioral Therapy (DBT), Narrative Therapy, Mindfulness-Based Self Compassion, and Motivational Interviewing. I also encourage the discussion of intersectional identity. If you're not sure what that means, let's talk about it! Once we establish your goals, we'll develop a treatment plan with what's best for you.
Through a collaborative, compassionate, and person-centered approach to psychotherapy, we will work on exploring and cultivating your most authentic self.